5 Reasons Why You Should Start Accepting Crypto Payments
Crypto payments are becoming a fast-growing trend. With an increase of 63% in cryptocurrency ownership in 2020, consumers are keen to utilize their crypto funds for making purchases. In fact, the crypto market crossed $2trillion worth of market valuation in April this year, hinting at the rising interest in crypto transactions.
A study by pymnts.com reported that:
Over 60% of owners originally bought cryptocurrencies for making purchases.
Around 93% of cryptocurrency holders want to use it for transactional purposes.
Businesses should start considering the increasing usages of cryptocurrencies. Owners of such Defi (Decentralized Finance) are constantly looking for new ways to attain value for their crypto assets. As of now, 27million people have owned or still own cryptocurrencies in the United States of America.
Another report by pymnts.com stated that:
18% of people in the United States (46 million customers) are looking forward to using cryptocurrencies for making purchases.
25.3% of cryptocurrency holders made crypto payments to purchase groceries.
25.1% of cryptocurrency holders made crypto payments for gaming and gambling payments.
As the ever-evolving FinTech industry is swiftly advancing, here are 5 reasons why you should accept crypto payments for your business:
Lesser Processing Fees
Whether it's PayPal crypto merchant payment processor or any other cryptocoin app, one thing is for sure – the processing fee is truly low! Compared to credit card payments and Net Banking transactions, services from a cryptoprocessor come at negligible rates. Paying low processing charges is one of the many benefits you'll get when you start accepting crypto payments.
Security and Privacy
The most significant aspect associated with crypto payment processing is security. The customers who make crypto payments are assured of their personal data being protected after paying for their purchases.
Moreover, payment processing service providers offer a secure cryptocurrency payment gateway for e-commerce businesses. Hence, whether you own a retail store or an e-business, a crypto payment processor can help secure your transactions along with customer data. This makes it impossible for fraudulent mishaps to occur when it comes to crypto payments.
Instant Checkouts and No Chargebacks
Customers love to spend more time shopping and less time at the checkout queue. Crypto payment methods ensure instant payment processing from their digital wallet to yours. A few cryptoprocessors in the United States provide the option of accepting a particular cryptocurrency or multiple ones.
Most importantly, accepting crypto payments is the best way to stay away from chargebacks. This is because once a customer pays using cryptocurrency, the transaction is irreversible. Also, digital wallets for crypto payments only allow the payment to go forward if there are sufficient funds available in the customer's account.
Global Market Opportunities
As many as 300 million cryptocurrency owners exist globally. With such a huge market up for grabs, it's just pivotal for you to consider crypto payments. You'll be able to expand your business horizons by attracting customers from any corner of the world. Receiving instant payments from international customers means the peak of greater sales and revenue.
More Customers, Greater Sales
Basic yet true, offering crypto payment methods to customers will definitely attract more of them. Customers rejoice when they get the facility they desire. In this case, customers who prefer paying using cryptocurrencies will make it a point to indulge with your business. As a result, you're looking at humongous sales and profits in the long run!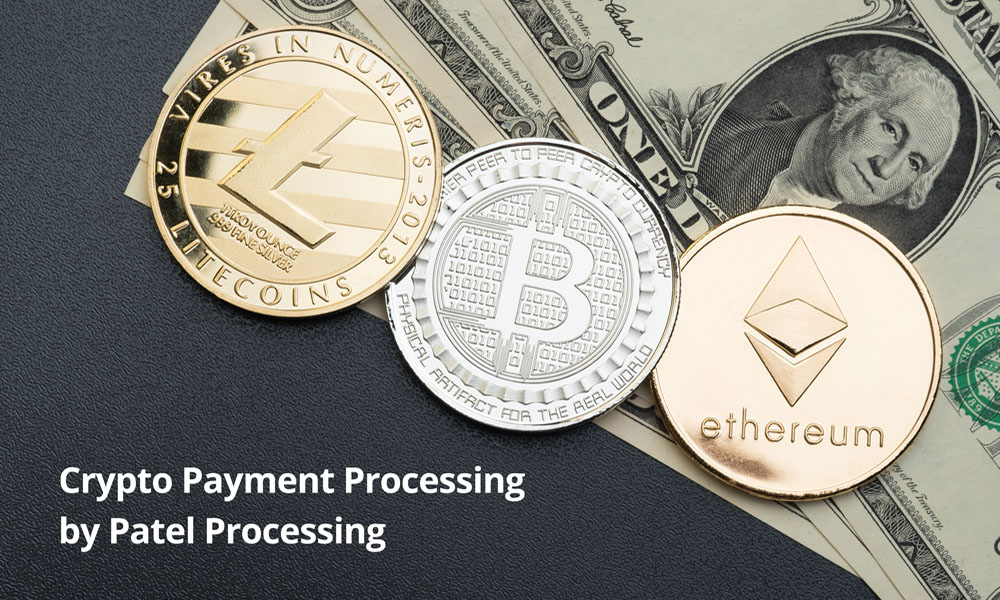 Crypto Payment Processing by Patel Processing
If you're looking for reliable cryptoprocessors with unique benefits and services, look nowhere else! At Patel Processing, we provide crypto payment processing services through which you can start accepting cryptocurrencies like Bitcoin, Bitcoin Cash, Ethereum, Litecoin, and Dogecoin.
With us, you can INSTANTLY CONVERT CRYPTO PAYMENTS into the FIAT CURRENCY of your choice!
This means you have the choice of keeping your payments with you in the form of cryptocurrencies or a basic centralized currency like the Dollar, Euro, etc. Furthermore, we deliver all of these services at truly affordable and reasonable rates across the United States.
Contact us to set up your crypto payment digital wallet NOW!